The Raid
is the first Indonesian film to play Midnight Madness and we at the Midnight Madness blog are pretty excited about it the promise of a straight up, asskicking action film. And since I'm sure you've already got your tickets and have a little time to kill, it seems like a good time to try and scratch the surface of Indonesian cult cinema.
H. Tjut Djalil
is probably the Indonesian director most familiar to cult cinema fans. He directed 15 movies between 1974 and 1995. What drugs were to so many Hollywood movies in the 1980s, black magic is to H. Tjut Djalil's movies of the same time. Black magic, just don't do it.
Lady Terminator
/
Pembalasan Ratu Pantai Selatan
(1989) is probably his most famous film among cult cinema fans. It stars Barbara Constable as an anthropology student possessed by ancient spirit determined to fulfill a curse and take revenge. The film mixes sorcery, the Queen of the South Seas, and James Cameron's
The Terminator
making it a lot of fun if you like ancient evils, explosions and ladies of evil agency. (Teleport City has an essay I can't improve on,
here
).
But
Mystics of Bali
/
Leyak
/
Mystik
is my favorite Djalil movie, mostly because I have a degree in anthropology and a fondness for
hantu penanggal / penanggalan
, i.e., flying vampire heads. I don't think it's a spoiler so much as a draw to say that
Mystics in Bali
features both, played by Ilona Agathe Bastian. She wants to become a
léak
, a Balinese practitioner of black magic, and goes into the forest to study with a
léak
guru, played fantastically by Sofia W.D. As a former anthropology student, let me say that this is exactly what would happen. We just can't help ourselves. Eventually, the
léak
gains control of the young woman at night and a head goes flying. Remember kids, black magic is no good. Sure, it seems cool, but it will ruin your life.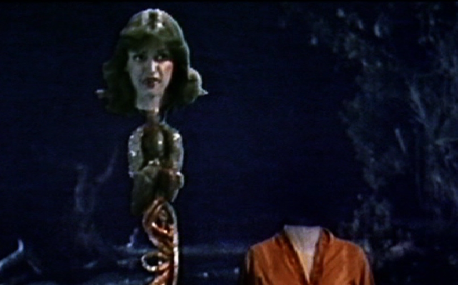 This is your head on black magic.
H. Tjut Djalil also directed
Jaka Sembang and Bergola Ijo
/
Jaka Sembang dan Bergola Ijo
, the 1985 follow-up to the Barry Prima vehicle,
Jaka Sembang
. Which brings me to a legend of Indonesian cinema, Barry Prima.
Barry Prima will put an end to your Colonial and black magic shenanigans.
Born "Humbertus Knoch," Barry Prima was the son of a Dutch father and Indonesian mother. Prima was trained in Taekwondo and appeared in many Indonesian movies in the 1980s. Prima frequently stands up for the oppressed in his movies, using his Taekwondo skills to right wrongs--until black magic enters the mix. But even then, it's rarely enough to overcome his own mystic power.
Prima also played Tarzan in a few films and was in several series. But cult cinema fans probably best know him from
Jaka Sembung
/
The Warrior
(1981), directed by Sisworo Gautama Putra, and its sequels,
Si Buta Lawan Jaka Sembung
,
Jaka Sembung dan Ijo Bergoli
and
Jaka Sembung and the Ocean Goddess
/
Jaka Sembung dan Dewi Samudra
. (Sibuta the blind swordsman has his own series of films as well).
In
Jaka Sembung
, using all the power of his virtue and martial arts training Barry Prima resists Dutch colonial oppression so well that the Dutch team up with sorceror Ki Hitam to destroy him. But first they must reunite Ki Hitam's head and body. (The Dutch are played with some peculiarly satisfying Dutch-face).
Shudder before the might of Dutch Colonial authority!
The important thing to know is that his movies feature a unique combination of martial arts asskickery and mindblowing mystical fights and transformations. One minute Barry Prima is kicking someone's ass, the next minute the guy is breathing fire at him.One moment, he's blind, the next he's a pig.
Prima worked steadily in the 80s and into the mid-90s before leaving the screen for about 10 years. He returned in 2005 with Joko Anwar's
Joni's Promise
/
Taxi Driver
/
Janji Joni
, and has been working regularly, though not as intensively, since in movies like Upi Avianto's
Reality, Love and Rock'n'Roll
/
Realita, Cinta dan Rock'n'Roll
where he plays a trans mother and famously chases down a pickpocket.
Suzzanna challenges you to a staring contest.
According to the IMDb, Suzzanna made her first film in 1950 and her last film,
Hantu Ambulance
/
Ambulance Ghost
/
Widya
, in 2008 and, sadly, passed away the same year. But her career really took off in the 1980s, when she became the Queen of Indonesian horror through the films of Sisworo Gautama Putra. Where scream queens are often final girls, Suzzanna is has more in common with Ingrid Pitt or Christopher Lee than Jamie Lee Curtis. In fact, when the Indonesian take on
Nightmare on Elm Street
was made, Suzzanna wore the glove.
One, two, Suzzanna's coming for you...
With her powerful stare and intense presence, Suzzanna's career picked up in the 1980s in several series of films with more eeriness than gore, but still mixing martial arts action with mystic power. Where Barry Prima often represented power (
sakti
) controlled by discipline and virtue, Suzzanna frequently plays characters, whether as a Snake Queen or a wronged woman who learns black magic or a
Ghost with Hole
in her stomach, whose power is undisciplined and ruled by emotion, often a justifiable desire for revenge.
She faced off against Barry Prima in several films. In fact, his second film was her
Nyi Blorong
/
Nyi Roro Kidul
in which a man sacrifices his wife and son to the Snake Queen/Queen of the South Seas in exchange for wealth. Played by Suzzanna, Nyi demands his daughter and he refuses. Suzzanna starred in two more Snake Queen movies,
Perkawinan Nyi Blorong
(1983) and
Petualangan Cinta Nyi Blorong
/
The Hungry Snake Woman
(1986).
In
Ratu Sakti Calon Arang
, another film playing with the reputation of Bali for spiritual power, she uses a book of sutras to summon the daughter of Mt. Agung to grant her boons. She messes with black magic again, in the relatively easy to find,
The Queen of Black Magic
/
Ratu Ilmu Hitam
directed by Liliek Sudjio.
But as we have learned, black magic is never the solution to your problems. Like crack or crystal meth, it will destroy you in the end. If there were a 1980s Indonesian version of
The Wire
, set in Jakarta, Bandung or Bogor, the Major Case Squad would be investigating the black magic industry.
This is also your head on black magic. Any questions?
Finally, just to catch up to more recent--and probably respectable--Indonesian genre film, there are the films of Joko Anwar. Joko Anwar wrote
Joni's Promise
/
Janji Joni
, featuring Barry Prima's return to film. But he's probably better known in North American film circles for
Dead Time: Kala
/
Kala
and
The Forbidden Door
/
Pintu Terlarang
.
Thurs., Sept. 8th, 11:59PM, RYERSON
Sat., Sept. 10th, 12:15PM, AMC 2